Edit visualizations for Notebooks and Dashboards
Latest Dynatrace
Dynatrace offers several visualization types for your dashboard tiles and notebook sections.
Select visualization
When you select Query Grail or Add code from the
Add menu of the Dashboards and Notebooks apps, you can choose how to visualize the results.
Recommended: This visualization type is well-suited to your query.
Available: This visualization type is available for your query but may not be the best selection.
Unsupported: This visualization type is unavailable for your query.
Change visualization
If a visualization is already selected, a Change visualization button is displayed above the visualization. Select it to choose a different visualization (if available).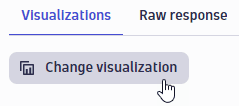 Raw response
When you edit and run a visualization, select the Raw response tab to see the actual data returned by the query (rather than a visualization of the data).
Visualization settings
When you create a tile and select a visualization, the panel to the right of the visualization displays visualization settings.

Some settings don't apply to some visualizations. See the visualization-specific documentation for an exact list.