Dynatrace quick start guide
To start using Dynatrace, just create a free trial account, install OneAgent on a host, and see how Dynatrace immediately shows you the health and performance of that host.
Create your Dynatrace account
To create a free trial Dynatrace account
Deploy Dynatrace
To download and install Dynatrace OneAgent on a host
Monitor your host and its processes
When you select the host name, Dynatrace shows you what it already knows about your host.
The following are just a few of the things you can find on the host overview page.
Properties and tags
Select Properties and tags on the notifications bar to display the Properties and tags panel, which displays metadata about the selected host:
Problems
Vulnerabilities
Availability
For details, see Host availability.
Host performance
Go to the Host performance section for quick insights with relevant metrics: CPU, memory, and network metrics, with different metric aggregations for the selected timeframe. Timeline browsing lets you pinpoint selected anomalies in all metric charts simultaneously, making it easier to understand the relationships between the various infrastructure components at a specific point in time.
It is easy to inspect maximum or minimum peaks in resource consumption, as each metric chart allows the selection of a different aggregation. Custom metrics can also be displayed instead of the default metrics, allowing inspection of specific relationships across metrics that might be critical for any specific host configuration.

Process analysis
To get a better understanding of process behavior, go to the Process analysis section, which charts and lists processes running on the selected host. Select a process to drill down for details about that process on the host.

Process instance snapshots
OneAgent version 1.237+
The Process instance snapshots section offers additional insights into the most resource-consuming processes running on your host and the processes defined for Process availability monitoring.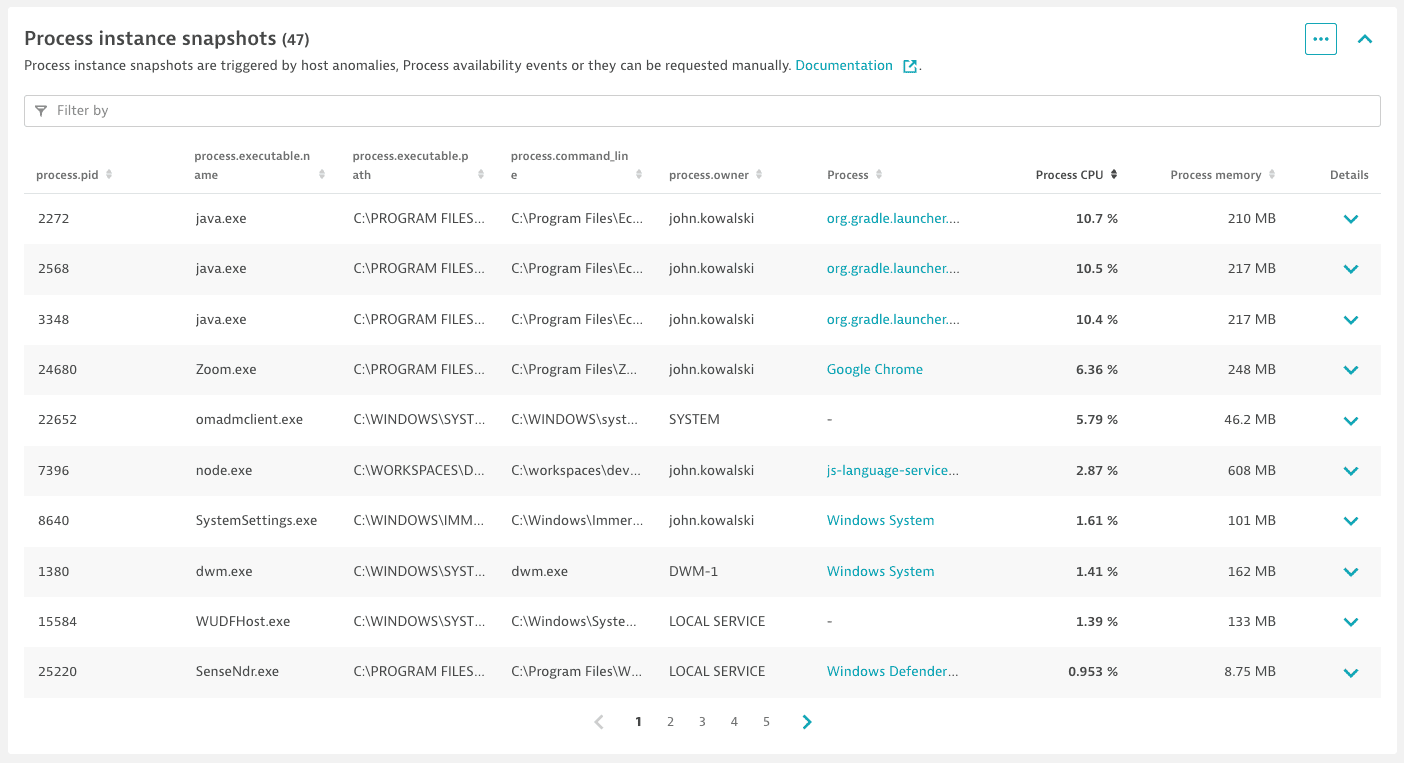 A single process instance snapshot is a set of monitoring data for processes. It contains data on the process CPU usage (%), Memory usage (B), Incoming network traffic (KB), and Outgoing network traffic (KB) measured at one-minute intervals. A single snapshot contains 20 minutes of monitoring data: 10 minutes preceding the trigger and 10 minutes after the trigger. Each host can report only 60 minutes of these metrics per day. A process is considered for the snapshot if its consumption of CPU, memory, or network is more than 1%.
A process instance snapshot is triggered by high CPU, memory, or network usage on your host. You can also request a process snapshot manually. Select in the upper-right corner of the section and select Request process snapshot now. Wait for a message confirming a successful snapshot trigger. Process snapshot data should appear after you reload the page within 90 seconds.
Additionally, for processes defined for Process availability monitoring, the snapshot shows how the processes behaved before they disappeared and if they reappeared within 10 minutes.
Enable process instance snapshots
You can enable process instance snapshots at a host or environment level.
On the same settings page, you can also lower the limit of processes reported in a single snapshot. The maximum/default setting is 100 processes.
Disk analysis
To identify disk performance bottlenecks, go to the Disk analysis section , which displays all mount points for Linux systems and all volumes for Windows. At a glance, you can see the disk space usage and throughput metrics, in addition to other selected disk metrics, to allow rapid identification of any disk performance issues.
Each mount point (Linux) or volume (Windows) has its own performance metrics in addition to the combined metrics. This allows spotting a slow or erratic disk much easier. Alerts can be set for individual disks as for the combined charts.

Disk monitoring
Limitations
Disable monitoring for specific disks
Set an exclusion filter to avoid problems with special mount points:
Network analysis
To spot network-related issues rapidly, go to the Network analysis section, which lists all network interfaces and combined metrics for all of them, in addition to individual metrics per network interface.
Use this section to:

Memory analysis
Use the Memory analysis section to analyze:
Events
The events section displays recent host events that Davis AI has generated, with a clear timeline view to quickly identify critical events. The timeline view is interactive, filtering events around a specific moment, making it easier to isolate a particular event. In addition, different event types are color-coded for easier and faster identification and browsing.
Logs
The log viewer timeline is interactive, allowing a global timeline selection. Use it to identify issues around a specific log event and see how it relates to hosting performance or processes.
Set up a problem notification
Dynatrace offers several out-of-the-box integrations that automatically push Dynatrace problem notifications to your third-party messaging or incident-management systems. If, however, your third-party system isn't supported with an out-of-the-box integration, you can easily set up email integration. Using this approach, an email message is sent out whenever Dynatrace detects a problem in your environment that affects real users.
Create your first dashboard
To create a dashboard
Now let's go back to our host overview page and pin a chart from that page to your new dashboard.
Try using the same procedure to add a few more tiles to your dashboard.
Check further resources
To learn more about Dynatrace, see: