Dynatrace SaaS release notes version 1.244
Announcements
Classic user sessions page end-of-life
We are deprecating the classic User sessions page soon and replacing it with a more powerful page for session segmentation. To stay tuned, keep an eye on our release notes.
New features and enhancements
Application Security
Attack Protection
Application Security now offers a new capability: Attack Protection. Dynatrace Attack Protection leverages code-level insights and transaction analysis to detect and block attacks on your applications automatically and in real time. For details, see our product blog.
Security problem indicator
The new security problems indicator on the Dynatrace top bar displays the number of critical or high-security problems in your environment. Select it to navigate to the Third-party vulnerabilities page.

Synthetic Monitoring
Service-level objectives
A new SLO indicator called Service performance is available when you create an SLO.
Data explorer and dashboards
Connect your log data to user sessions and Session Replays
A new button, View user session, is available next to the View trace button in the log viewer. This button allows you to navigate from a log entry to the user session and Session Replay in the scope the log was triggered.
This immediately provides frontend context and allows you to optimize and troubleshoot your applications much quicker.
To use this feature, you need to connect your log data to traces and have Real User Monitoring, and optionally Session Replay enabled.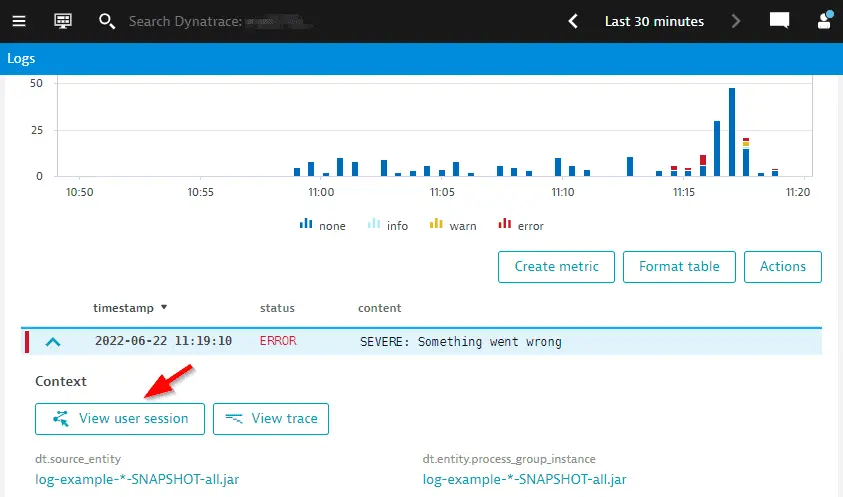 Web UI requirements
We have updated Dynatrace web UI requirements for supported browsers. The Dynatrace web UI will no longer be accessible on Microsoft Edge 16, Microsoft Edge 17, or Safari 11.
We encourage you to update to the latest browser versions according to our requirements.
Span attributes masking
You can now mask sensitive data in the OpenTelemetry span attribute values. You can Mask entire value, Mask only confidential data, or Do not mask the attribute value.
Problem analysis on host, Kubernetes, Queues, and domain-specific unified analysis pages
Unified analysis pages now support you during problem analysis with visual highlights of problem events and detected metric anomalies. Opening a unified analysis page such as the host overview pages, Kubernetes pages, queue pages, and domain-specific unified analysis pages within the context of a problem will now give you visual highlights and navigational hints about the violating metrics or the detected issues on the focused component. The image below shows the host entity page with a navigational hint to review the CPU metric.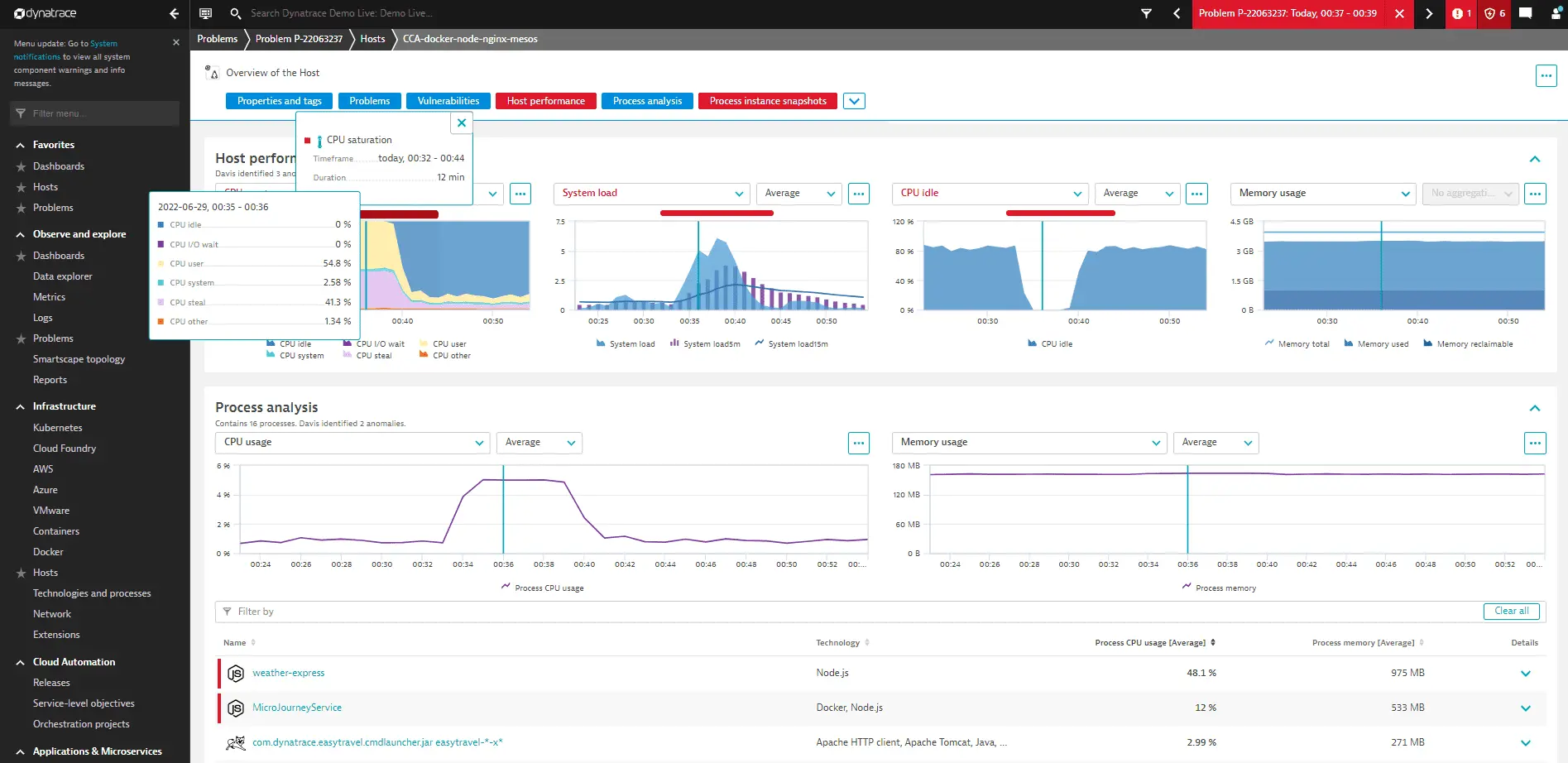 For more information on root cause analysis, see Root cause analysis.
Services
With OneAgent version 1.237 and Dynatrace version 1.244, out-of-memory and out-of-thread handling is supported for Cloud-native full-stack injection and application-only deployments.
Real User Monitoring JavaScript API
These two endpoints:
behaved differently when RUM was disabled. This behavior has been changed so that these endpoints behave the same even when RUM is disabled.
Settings 2.0
Settings history
Many settings pages now allow reviewing the configuration changes that happened on this page. Select Show history and then select a timeframe. This is available for users with at least settings:objects:read permissions for the respective schema ID.
Settings API
The /settings/effectiveValues Settings API endpoint now allows you to retrieve the settings that are in effect for any scope, such as an entity like a host.
Dynatrace API
To learn about changes to the Dynatrace API in this release, see Dynatrace API changelog version 1.244.
Resolved issues