Install OneAgent on AIX
To install Dynatrace OneAgent on AIX
Then continue with the installation steps provided below.
Requirements
Permissions
You need Download/install OneAgent permissions to download and install OneAgent.

You need administrator rights for the servers where OneAgent will be installed as well as for changing firewall settings (necessary only if your internal routing policy may prevent Dynatrace software from reaching the internet).

You need permissions and credentials for restarting all your application services.
Resources
Check the disk space requirements.

Your host requires 200 MB free memory to run OneAgent installation and update.

All hosts that are to be monitored need to be able to send data to the Dynatrace cluster. Depending on whether your Dynatrace deployment is SaaS or Managed, and on your network layout and security settings, you may choose to either provide direct access to the Dynatrace cluster, or to set up an ActiveGate.
Limitations
OneAgent installation isn't supported on networked storage mount points that are managed by standards such as NFS or iSCSI.

The support for Log management and Analytics and Log Monitoring Classic on AIX hosts is limited:

log detection in log module is limited only to custom log sources.
Allow connections through firewall
Ensure that your firewall settings allow communication to Dynatrace.
Depending on your firewall policy, you may need to explicitly allow certain outgoing connections. The remote Dynatrace addresses to add to the allow list are given on the installation page for OneAgent.
Installation
In the Dynatrace menu, select Deploy Dynatrace.

Select Start installation and then select AIX.

Provide a PaaS token. This token is required to download the OneAgent installer from your environment. If you don't have a PaaS token, you can create one right in the UI. The token is automatically appended to the download and installation commands you'll use later.

Click Copy to copy the wget command to the clipboard.

Log into your AIX host and then paste and execute the wget command.

The wget command isn't installed on AIX by default. Either install it or use an alternative means of downloading OneAgent.
If you receive an error while downloading OneAgent, install the required certificate by downloading the root CA file from Comodo



and then concatenating the content of the CRT file to /var/ssl/cert.pem. You can alternatively skip the certificate check by adding the parameter --no-check-certificate.
If you plan to download OneAgent directly to a server, note that outdated or missing libraries (for example, CA certificates or OpenSSL) will prevent the installer from downloading. We use encrypted connections. OpenSSL is required to enable wget to access the server.

Verify the signature
After the download is complete, paste the provided command into your terminal window and execute it. Make sure your system is up to date, especially SSL and related certificate libraries.

optional Set customized options

Copy the command provided in the Run the installer with root rights text field.

Run the installer.
Paste the command into your terminal and execute it.

You need root privileges. You'll need to make the script executable before you can run it as root.
You can use su or sudo to run the installation script. To do this, type the following command into the directory where you downloaded the installation script.
sudo /bin/sh Dynatrace-OneAgent-AIX-1.0.0.sh

For a summary of the changes made to your system by OneAgent installation, see OneAgent security on AIX.

On AIX, Dynatrace supports deep-code monitoring for Java, Apache, WebLogic and Websphere applications. It's automated for OneAgent version 1.189+. For earlier releases, you need to perform some configuration on AIX, which can be easily done both for single applications as well as shell-wide.

The automated injection of deep-code monitoring is enabled by default since Dynatrace version 1.195 for fresh OneAgent 1.189+ installations.

You can enable deep-code monitoring after you install OneAgent and it successfully connects to Dynatrace. In the Hosts page, find your host, go to Host settings > Monitoring, and select Allow AIX kernel extension.
Installation on Virtual I/O Server (VIOS)
Use the generic installation steps to download the OneAgent, and then, after you have the OneAgent installer on your VIOS machine, issue the following commands.
Initiate the OEM installation and set up environment.

Sign in to the system group.

Install OneAgent.

The --set-infra-only command is now deprecated. Use the --set-monitoring-mode command instead.

The --set-monitoring-mode=infra-only parameter enables Infrastructure Monitoring.
The --set-auto-injection-enabled=false parameter disables automatic injection into processes.

1

/bin/sh Dynatrace-OneAgent.sh --set-monitoring-mode

=

infra-only --set-auto-injection-enabled

=

false

Return to the Virtual I/O Server prompt.
Manual OneAgent injection
If you can't use the unified monitoring approach, you can inject OneAgent manually.
Processes that have been given special privileges using AIX's Role-Based Access Control (RBAC) system can't be auto-injected. This is a safety mechanism of the operating system to restrict unknown code from being run with elevated privileges. For example, an Apache or IHS web server might have been given the PV_NET_PORT privilege to allow starting the server as a non-root user but still letting it bind into restricted ports like port 80. In this case, any libraries configured for preloading, including OneAgent, will be silently ignored. In such cases, only manual OneAgent injection will work.
Prepend your application command with the following commands:
1

export

 

DT_HOME

=

/opt/dynatrace/oneagent

2

export

 

LDR_PRELOAD64

=

$DT_HOME

/agent/lib64/liboneagentproc.so

3

export

 

LDR_PRELOAD

=

$DT_HOME

/agent/lib/liboneagentproc.so
The DT_HOME variable must point to your OneAgent installation folder. If you customized your OneAgent installation directory, adjust DT_HOME variable accordingly. You can omit either the 32-bit or 64-bit entry, depending on your environment.
You've arrived!
Great, setup is complete! You can now take a look around your new monitoring environment. If you are a SaaS customer, you can access your monitoring environment anytime by going to Dynatrace website and clicking the Login button in the upper-right corner. If you are a Dynatrace Managed customer, you can access your monitoring environment through the Cluster Management Console.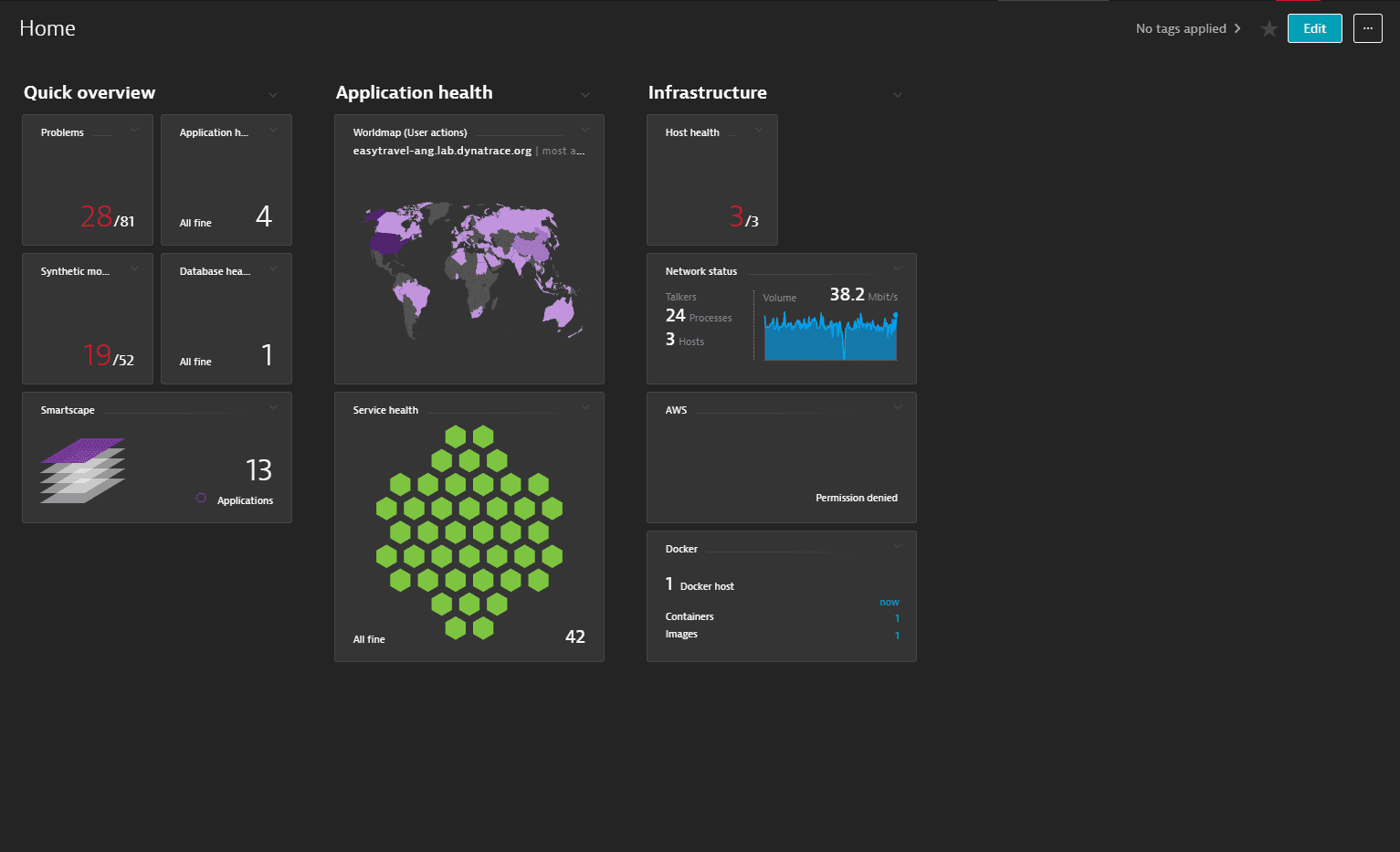 One last thing: to monitor your processes, you need to restart them. At any time, you can check which processes aren't monitored and need to be restarted. Just select Deployment status from the navigation menu, click the All hosts or Recently connected hosts tab, and expand the host you are interested in.